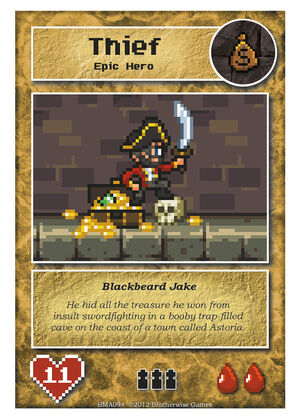 Blackbeard Jake is an
Epic Hero
in the
Base Set
.
Character art by Kyle Merritt.
Background art by David Nyari.
He hid all the treasure he won from insult swordfighting in a booby-trap filled cave on the coast of a town called Astoria.
Astoria is the name of the town from the movie The Goonies where 7 kids explore a cavern to find "One-Eyed" Willie's treasure hidden on his ship. The cave is booby trapped in the movie.
"Insult swordfighting" is a mechanic in the Monkey Island adventure game series.