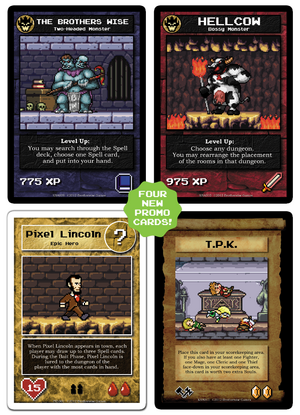 Promo Cards are any cards not included in the
Base Set
or any official expansions, but are made by
Brotherwise Games
thus not being
Custom Cards
. Currently all Promo Cards have been featured on
Kickstarter
and were no longer acquirable new after November 18th 2012.'
Brotherwise Games has stated that during the Kickstarter for the Crash Landing expansion there will likely be more Exclusive cards. They also plan on having tournament packs made and sent to board game stores across the United States as prizes for winning Boss Monster tournaments. These tournament packs would be completely different Promo Cards from the Kickstarter Exclusive cards as Brotherwise has stated that they would never be released again.
Currently there are 18 Promo Cards: 8 Bosses, 4 Rooms, 2 Spells, and 4 Heroes.
For a list of Promo cards see the Card List.
Holographic Boss Cards
Edit
As part of a Kickstarter stretch goal holographic versions of the 16 original Boss cards (8 Base Set and 8 Promo Bosses) as a bonus. Though they officially serve no purpose they can be used as Level Up indicators to be placed over the non-holo Boss cards when they Level Up. They could also be used instead of the original Boss cards since they are identical aside from some shiny areas.
Trending pages
All items (25)
A
B
D
E
G
H
J
K
M
P
Q
S
T