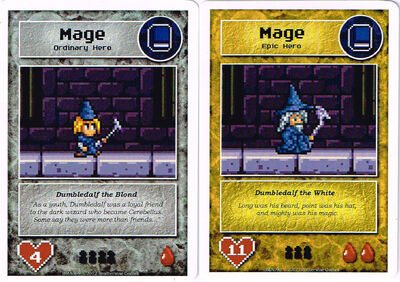 Dumbledalf is a
Mage Hero
included in the
Alpha Prototypes
. He has an
Ordinary
and
Epic
version.
Character art by Francisco Coda.
Background art by David Nyari.
Ordinary:
"As a youth, Dumbledalf was a loyal friend to the dark wizard who became Cerebellus. Some say they were more than friends..."

Epic:
"Long was his beard, point was his hat, and mighty was his magic."
This card may be a nod at Dumbledore (Harry Potter Series) and Gandalf (Lord of the Rings Series) as shown by the mash up of their name. Dumbledalf's Ordinary Hero flavor text mentions a dark wizard, This possibly refers to Grindelwald as he was friends with Dumbledore and he later became a dark wizard (it was also rumored that they had a relationship). The Ordinary and Epic also relate to Gandalf who has his title reflect his hair color(Gandalf the Grey and Gandalf the White).