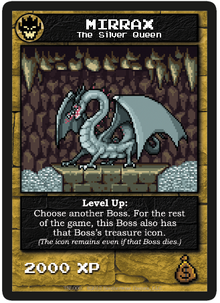 The Silver Queen. This Boss is a holofoil Promo card that will be given out in the Limited Edition version of Boss Monster: The Next Level, that was obtainable through Kickstarter. The Brothers have noted that this card may appear again in the future, however with different artwork.
Strategy
Edit
This Boss' Ability is best activated as soon as possible, as it allows Mirrax to counteract a Boss' luring ability by copying their Treasure icon.
Mirrax, now as the Boss with the highest XP, will always go first.
Mirrax's name is similar to the original Boss Monster's premier dragon, Kirax, which used to be the Boss with the highest XP. Mirrax's ability is somewhat similar to Kirax's, only nerfed. Mirax also features a gold border because she can also take on more than one Treasure type, much like Kirax, and also like Room cards that are dual Treasure types.