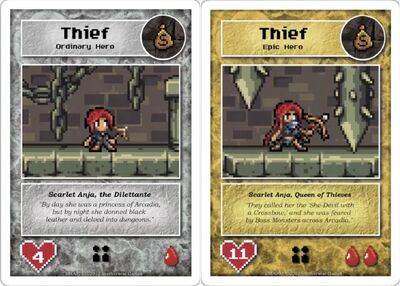 Scarlet Anja is a Thief Hero included in the Alpha Prototypes. She has an Ordinary and Epic version.
Character art by Francisco Coda.
Background art by David Nyari.
Ordinary Hero
"By day she was a princess of Arcadia, but by night she donned black leather and delved into dungeons."
Epic Hero
"They called her the 'She-Devil with a Crossbow', and she was feared by Boss Monsters across Arcadia."
This card could be a reference to Red Sonja, "the She-Devil with a Sword".